LADIES CONFERENCE 2017
Dear Sister,
We are so excited to be hosting this ladies conference at Faith!  We hope you will join us!  We have lots in store and can't wait to see what the Lord will do.  Below you will find the event flyer for pertinent information. You may click on the flyer to view.  To register, click here and complete the registration form.  Registration will close on Saturday, September 2nd.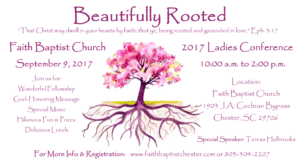 Our keynote speaker will be Mrs. Teresa Holbrooks.  Mrs. Teresa Holbrooks is the wife of Evangelist Tommy Holbrooks.  They have been in the Ministry for over 40 years. As a Pastor and currently an Evangelist, Mr. and Mrs. Holbrooks have traveled and worked with many Pastors and Churches. Their ministry has allowed them to see first hand the need of so many Pastors, Evangelists and Missionaries.
Mrs. Holbrooks has been speaking at ladies conferences and meetings for many years, and we are so excited to have her as our keynote speaker this year.
Please prayerfully consider attending this free event!  Any questions, just call me at (803) 504-2207.  Remember, registration ends on Saturday, September 2nd.
Sincerely,
Kelly Moss, Pastor's Wife