Home
»
Homecoming & Revival 2017
HOMECOMING & REVIVAL 2017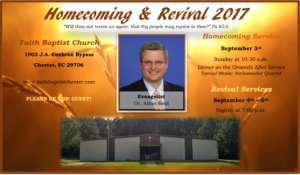 Our Homecoming & Revival will be September 3rd to 6th with Dr. Alton Beal, Evangelist and President of Ambassador Baptist College.
Homecoming Service will begin Sunday Morning, September 3rd at 10:30 a.m.  The Ambassador Baptist College Quartet will be singing, and Dr. Beal will be preaching.  There will be dinner on the grounds following the service with no evening service on Sunday.
Revival Services will start at 7:00 pm. Monday through Wednesday, September 4th to 6th,  with special music provided by Faith Baptist church members and Dr. Beal.
We hope that you will join us for our annual Homecoming & Revival as we seek to see the Lord revive our hearts, lives, and all of Chester County.